HALL OF FAME
ROJ RO NA INT AM CH
TARA'S BAD BOY
BH SCH1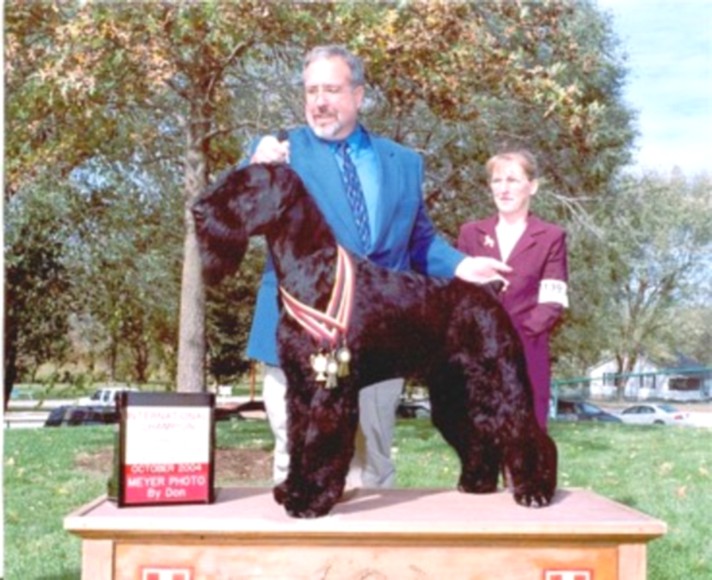 Zed as he is known is our newest import, coming from Romania. We feel proud, as well as lucky to have been able to add a dog like this to our home. We have to thank Zed's previous owner Razvan Varabiescu, as well as his breeder Ana Girboan of Tara's kennel for making this possible. From the day we brought Zed home he has been incredible, our young grandson can do anything he wants to with Zed. I think if he could pronounce the commands, Zed would obey. The nicest thing to watch is my grandson laying on top of Zed and playing with him on the floor. Zed has truly been a family dog, and will continue to be one.
Zed is pictured above in his first AKC show, going Winners Dog, Best of Winners, and Best of Opposite Sex for his first AKC point. We were not surprised at his success, he has already proven himself in Romania by being a Romanian Junior, and Romanian Champion. Since he has been in the U.S. he has achieved his National, International, and American Championships as well, this is not bad since he was only in this country for less than 3 months when he accomplished all of this. He has also proven he has a brain, by completing his BH, and Schutzhund 1 titles. Just what we all want, beauty, and brains in one p
ackage.
Zed proves himself no matter where he goes, he is an incredible dog, and is already leaving a lasting impression on all that meet him.
---
We are out to EARN a good reputation
Copyright 2018 Hatten's Giant Schnauzers
All rights reserved
Home - About Us - For Sale - Training - Their Coat - Our Policy
Puppy Info - Prices - Questionnaire - Recommended Diet - Testimonials
Pictures - Our Giant Family - Our Friend's Dogs - Photo Album - Hall Of Fame - Westminster Moments - Eukanuba Moments - Westminster 2006